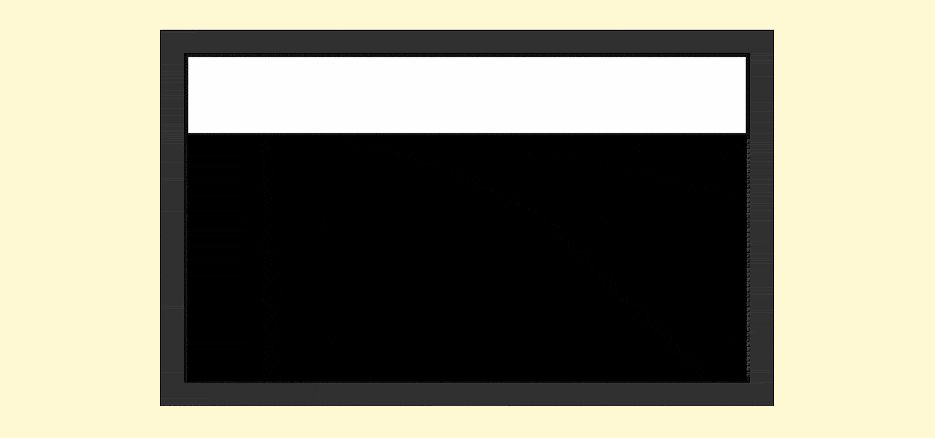 The displays can show lines of alphanumeric text, colour images, traffic information and alerts. Text can also scroll or flash on each line. Single characters can also flash. Display of date, time and temperature and multiple pages. Planning through calendar to display planned events (for example: weekly market).The upper part of the display is customisable with digitally printed and backlit graphics.


Smart traffic in urban centres
Sfhera fullCOLOR displays can be integrated with:
parking systems for displaying free parking spaces;
alarm systems using external sensors for sending alerts, such as:


sensors for water detection in underpasses;
sensors for raising water in rivers;
sensors for detecting queues along roads;
height sensors for detecting vehicles that cannot enter certain areas.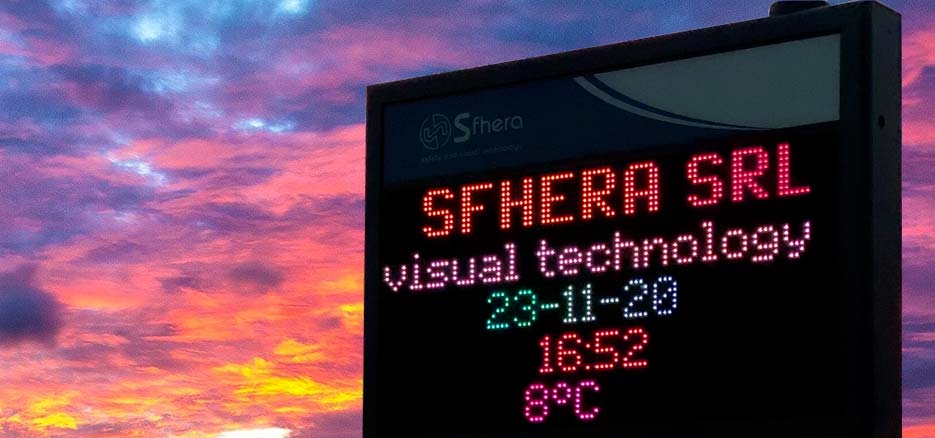 What does communicating with citizens mean?
To public administration and municipalities, communicating with the citizens means sharing important information with them, warning them in the case of an emergency – for example, in the event of a weather alert, intelligent traffic management systems can be implemented – with a view to a smart city. This way mobility changes based on the road conditions, with the goal of guaranteeing greater road safety, reducing the number of accidents and making urban centres more liveable.The fullCOLOR VMS is the ideal tool for municipalities looking for a quality information panel with the best characteristics on the market.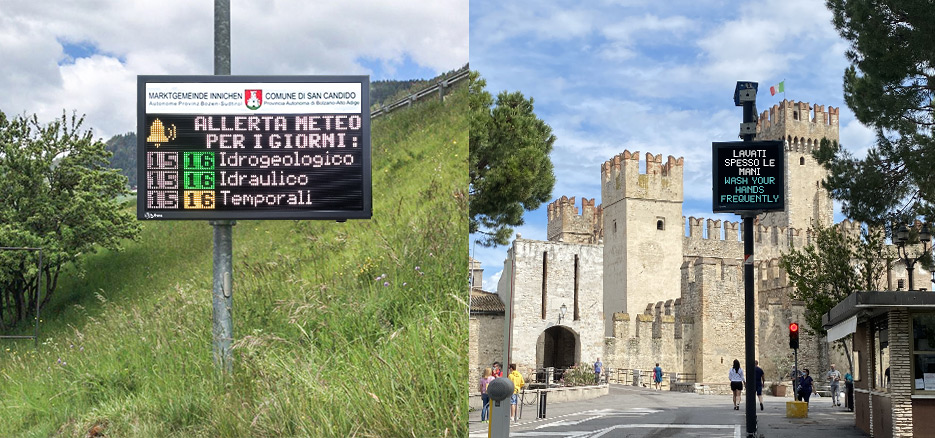 Thanks to the versatility of our systems, we are able to program variable message signs so as to use them in various fields. Municipalities have the chance to manage parking spaces near tourist locations, as was the case of the SPACLI system. We create systems to manage both indoor and outdoor car parks through displays that indicate the position of the free parking spaces as well as the parking spaces on each floor of the building, such as shopping centres or parking garages.

There is a product for every need, in case of need call us or request a free quote by writing to us from the contact page. 


Why choose Sfhera displays?
Our products are an expression of the Made in Italy brand, produced in a technological environment whose major assets are quality and user-friendliness. The result comes from years of experience in the light signal industry, which also includes several of our products including smart parking panels, displays for access to restricted traffic areas, flashing light signals and plates, photovoltaic markers, and much more. Quality control is the last step that the displays undergo, to verify their integrity and function based on customer specifications. The displays are made of extruded aluminium for durability and require minimal maintenance.

Choose Sfhera if you want to manage your displays comfortably
All Sfhera VMS (Variable Message Signs) can be managed in real-time or by programming a message for a specific date and time. There is no need to install software and pay for licences. Our Visual Link platform will take care of everything, moreover it will allow you to have our devices interact with one other by entering the Sfhera SMARTcity ecosystem.