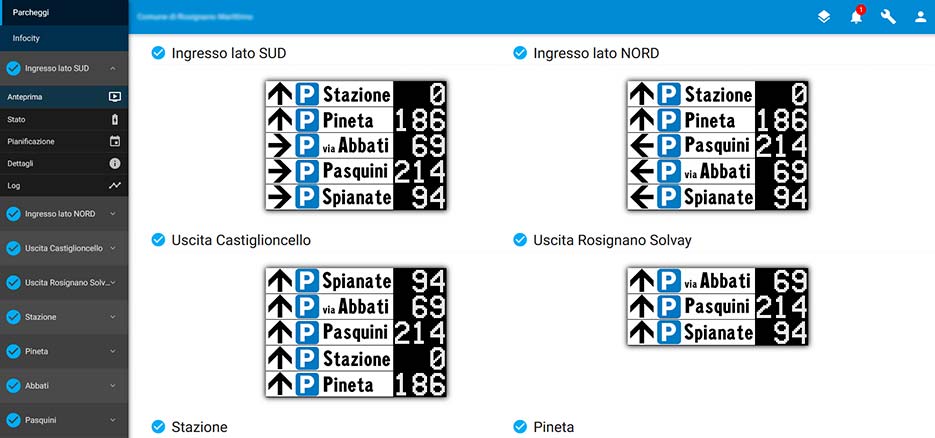 Free from constraints
The SFHERA variable message sings, along with the displays for managing accesses to restricted traffic areas, car parks and to see vertical signals and information, do not require any software to work and therefore no license is needed. 


Sfhera VMS management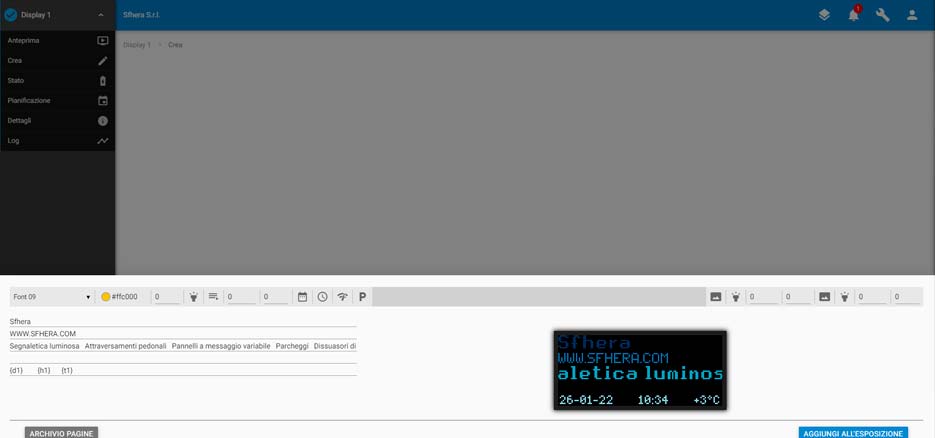 Sfhera variable message signs are managed remotely through a web platform, which can be accessed from a computer, smartphone or tablet (or in general any device connected to the internet). Each device, or group of devices, is given a unique name – username and password – which allow for the access to the dedicated platform. Through Visual Link you can carry out management operations such as: page creation, modification, elimination, programming of the display etc. The graphic interface is responsive, i.e. it adapts to the dimensions of the screen to offer the best performance possible and to be easy to use.


Spacli: area management and limited access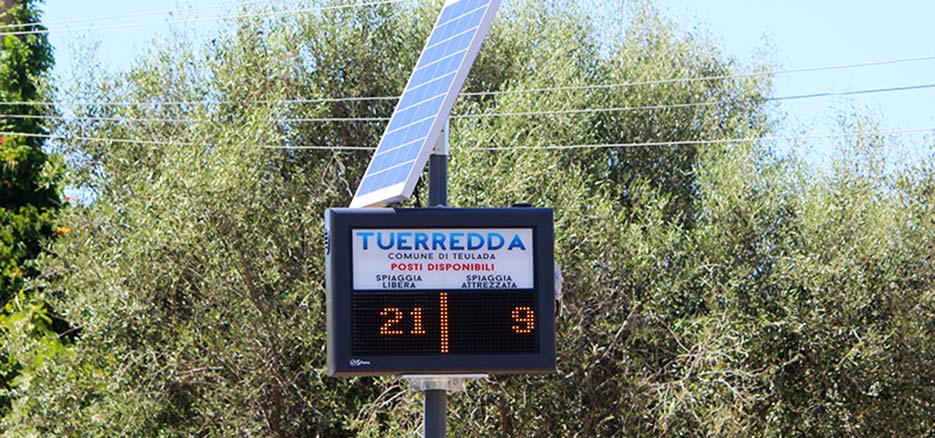 Spacli is our web application developed to manage restricted access areas where accesses are controlled: car parks, lodges, beaches. Customers can therefore view the parking spaces available on the internet and, if they wish to, book a parking space. The system can also communicate with the Sfhera panels and signs located in the street to inform tourists along the route.

Nowtice: the mass alert
Nowtice is a multi-channel mass alert platform that enables sending notifications and alerts on multiple communication channels in fast and guaranteed delivery times. It is a CLOUD software and can be accessed via web. The platform is designed to serve Public Bodies guaranteeing the rapid generation of the alert from any device connected (computers, tablets and smartphones). The system is designed to differentiate the alerts in massive alerts, for the community, and private alerts, made specifically to manage private communications between Public Bodies, to efficiently reach the activation of the Chain of Command (Civil Protection, Local Police...) during an emergency.

Assistance
In any case, remote assistance is guaranteed by a Sfhera operator, who can intervene on the devices and verify their status through diagnostic functions.


What can VMS be used for
for events and tourist information
for notices and information for citizens
for traffic management
for weather alerts and dangerous situations
Who can use them
Municipalities / Provincial Governments
Tourist information Offices / Local Tourist Offices
Local Police
Civil Protection
Where the Sfhera VMS can be managed from
from one's workstation, in the office
from one's home (remote working)
anywhere (provided that there is an internet connection)
What devices can be managed
VMS with LED monochrome graphic matrix
VMS with LED fullColor graphic matrix
Parking guidance panels
Displays for Restricted Traffic Area gates
Displays to view street signs
What can be done on variable message signs
lines of alphanumeric text
images on an amber or white colour scale
colour images
information on Restricted Traffic Areas, "open access point" / "closed access point", hours
signage and related information
Features supported by the VMS
sliding text, also on every line
flashing text, also single character
date, time, temperature
planning and calendar function for the display of messages and event management
weather alert widgets (directly connected to the Civil Protection)
independent screen management
multimedia archive with pictogram history