Lights up with style
The PLUS is a system that provides lighting and signaling for pedestrian crossings. The advantages:1. Furniture pole containing all electronics, including battery. No exposed box or external cable.
2. Illumination of the flashing optics and the LED light bar, inserted in the vertical of the pole, using a pedestrian detection sensor.
3. Double-sided luminous signal with a thickness of only 20 mm with integrated optics.
4. LED light complies with UNI TS 11726.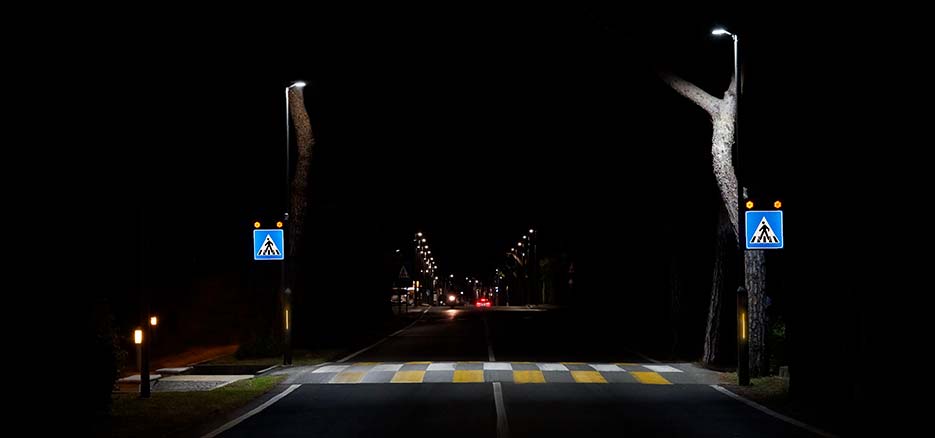 Urban furniture with PLUS
The APL PLUS is a lighting and signalling system for pedestrian crossings of the latest generation. Thanks to its compact, modern and innovative design it is ideal for urban furniture. It is also designed to hold all operating elements inside the pole. Looking at the system you do not see external boxes or cables, this ensures a clean and elegant aesthetic result. The APL PLUS system in the standard configuration consists of:
2 galvanized steel poles;
4 side LED bars recessed in the poles;
2 sensors
2 radio
2 side lamps
The installation of the PLUS crossing does not require the cutting of the road surface as the two poles and their sensors communicate with each other wireless.


Complies with uni ts 11726
When the pedestrian is detected, the PLUS manages the lightning of the LED flashing optics and the LED light bar, inserted in the upright of the pole. The system is equipped with the lates generation Sfhera SLIM signals. These signals are bright and double-sided, equipped with optics integrated in a profile of only 20 mm.According to UNI TS 11726 the device provides the correct lightning of the road and a part of the pavement, ensuring adequate vision for both pedestrian and driver.